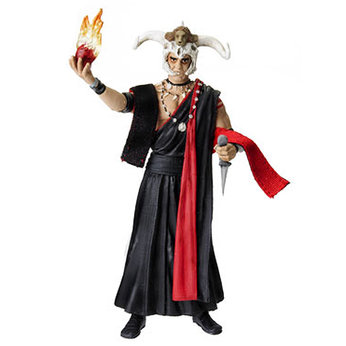 Even though the whole biblical narrative increasingly transforms my view of the world - as it deconstructs my assumptions, terrorizes my certainties, and inspires new dreams - there are a few passages that I love to hate and hate to love more than others. We all have those passages that we wish weren't there. We all have those passages that - like
Mola Ram
in
Indiana Jones and The Temple of Doom -
reach into our chest, pull out our heart, expose its ugliness, and reduce it to ash.
Isaiah 58 is one such passage.... and I'll return to that in a moment.
With some significant reservations and serious critique of some of the unhealthy literature produced, I am thankful for the renewed interest in spirituality and the classic spiritual disciplines. I myself have experienced the renewal of God's Spirit through practices like solitude, lectio divina, breath prayer, examen, etc. There are great and vast treasures worth mining out of the depths of the history of this religion we adhere to. There are ancient voices, historic narratives, and timeworn practices that we ignore to our own demise. I have found that the writings of dead people enrich me more than the best sellers on the shelves at the local religious bookstore. It is the ancient eyes that allow us to see the blindspots common to all those living in the same milieu.
I remember first reading Richard Foster and Dallas Willard in college and being grateful to have been invited into an expansive and ancient world of the spiritual life.
But where I have gone wrong, where I have often missed the point is... well... is why I hate to love and love to hate Isaiah 58. I am teaching on this passage this weekend, and I am using it to shape my observance of Lent this year.
It am only a week in, and I am regretting it already.
This passage addresses "spirituality." It addresses a people rigorously committed to the spiritual disciplines of: the study of Scripture, discernment, communal worship, and, the most avoided discipline in contemporary America, fasting.
And yet...
And yet the tone of this passage is one of rebuke. This is not addressing the Israel we are familiar with that is chided by the prophets for abandoning Yahweh for the gods of the Ancient Near East. No, these were monotheistic, faithful Jews. They were spiritual, not religious. They wanted relationship with God, not rules. In many ways they aspired to practice their faith in the way that I want to, with great commitment to the Word and to prayer and to fasting (well, 2 of those 3!).
And yet...
And yet their Father was not pleased. There was something vital missing from their spirituality. They assumed that spirituality was all about getting to know God, discerning His will in their day-to-day decisions, and enjoying to pleasure of His unmerited favor. But God had a word for them that would reach into the chest of their religion and painfully expose its heart.
Which is why I don't like but desperately need Isaiah 58. A snippet:
6
"Is not this the kind of fasting I have chosen:
to loose the chains of injustice
and untie the cords of the yoke,
to set the oppressed free
and break every yoke?
7
Is it not to share your food with the hungry
and to provide the poor wanderer with shelter—
when you see the naked, to clothe him,
and not to turn away from your own flesh and blood?
This Lenten season my wife and I are making an attempt to abstain from apathy. I have fasted from TV during Lent, I have abstained from caffeinated beverages, and I have even sought to refrain from obsessing over my appearance. After just a week of less than minimal activity, I can see that a fast from the fear of the other and abstaining from apathy will be the hardest yet.
Embarking on this fast carries within it the confession that I live a life that is mostly apathetic to the plight of the marginalized in my city. Our state has been enflamed over the presence of undocumented workers in the last few years, Atlanta is one of the top 14 cities for human trafficking, and my own town is flooded with refugees from around the world.
And yet...
And yet my time, energy, passions, and interests are invested elsewhere. Maybe the slogan contemporary Christianity needs is not: "I am spiritual, not religious" but instead "I am hospitable, not spiritual."
The word hospitality in the New Testament is the combination of two words that literally mean "love of the alien." You have heard of xenophobia which is the fear of someone from another country. Well, hospitality in the NT replaces the phobia part of that combination with a word that means love.
Hospitality is not entertaining people like you. Hospitality in the NT is welcoming the stranger, the alien, the immigrant, the 'other' to your table to love, listen, and befriend.
So this Lenten season I am setting myself on a course to learn more about the alien among us, specifically the undocumented families that have become an objectified, dehumanized issue for political parties to use to garner support, stir up fear, and, sadly, divide our communities. It is my hope that the Christian community can rise up beyond partisan debates and offer our country an image of compassionate, common-sense, just, and holistic reform that is shaped by our claim that God became one of us and identified Himself with the least among us. Not amnesty. Not mass deportation. Action, advocacy, and hospitality that is based on the type of spirituality our God desires.
This is an uncomfortable thing for me. I'd rather ignore it. I'd rather concern myself with other more spiritual matters. But Isaiah has reached into my chest, exposed my heart, and is calling for repentance. He is calling me to the kind of fast God really desires.
I began with the G92 Conference at Samford last week. I continue now by reading
Welcoming the Stranger: Justice, Compassion, and Truth in the Immigration Debate.
I hope to participate further in organizations in this community that are working for compassionate reform. I also hope, mostly, to enter more deeply into relationship with the 'other' - to practice philoxenia.
I want to be hospitable, not spiritual.