Benedict of Nursia,
"Click my face for a bio!"
This post is about an Italian guy that died almost 1500 years ago whose one simple book has changed me more than any other work on the spiritual life I have ever read. His name, Benedict of Nursia.
Actually, just yesterday, July 11th, was the Feast of Saint Benedict. You may or may not know much about this old monk. If you are really intrigued after this post, click on his image to be taken to a page with more info about him. In short he was born in late 5th century Rome to a wealthy, noble family. He was more than disenchanted with the corrupt church of his day. He gave up his wealth and headed for the wilderness to discover pure devotion to God. It wasn't long before people began to seek Him out for wisdom and spiritual guidance. They saw that he represented a way of following Jesus that was nothing like the establishment church of their day. Soon he knew that living as a hermit was not God's intent for him. He then gathered other men of single-minded devotion around himself to form a community. To define what their life together would require and how it would function each day, he borrowed from many available books about monastic living, added his own stuff, and adapted it together to write one of the most important spiritual documents of Christian history,
The Rule of Saint Benedict.
In doing this he not only founded one of the most long-lasting, spiritually-renewing monastic communities in Latin Christianity; he laid a foundation that helped to prevent the fall of Western civilization. (You know, the normal monk-life types of things!)
I am writing about him not so much to tell why he has made such a difference in me or how much
his monastic communities have rescued the church and society. I am writing to highlight a few of the principles he instilled in his religious communities that I think are absolutely necessary if Christians, and the Church, in North America are going to be standing at all much less standing for something in fifty years. The rule of life that Benedict used to structure life in his monasteries would be for us controversial, certainly, but, even more, the very antidotes we need for the diseases threatening our character, our communities, and our witness in the world.
Below I want to highlight just two (three more coming soon) of the many transformative teachings of Benedict. I believe that these not only have potency for celibate monks in 6th century Italy, but for every man and woman who chooses to follow Christ in community today.
#hospitality - Perhaps you have heard of "xenophobia," the fear (phobia) of the alien or stranger (xeno). In Greek, the word hospitality is basically "xenophilia," the love (philia) of the alien or stranger. Biblical hospitality is not gracious smiles, sweet tea, and a clean house offered to someone who looks like me. Hospitality is welcoming the alien or stranger into our lives with the love of Christ. Benedictines took this seriously. Benedict's Rule required them to welcome every stranger at their door as if Christ himself were standing there. Regardless of where they came from, their religion, nationality, social status, or how much food (grown by the sweat of the hard-working monks) would be eaten by them, that person was Christ and was to be treated accordingly. Think about how radically our conversations about the poor, vulnerable, and alien among us would be changed with this way of thinking about each other.
#balance - Ora et labora is the Benedictine motto - pray and work. The Benedictines rejected some of the teachings of their day that bifurcated secular and spiritual. Work was not seen as secular. Prayer was not seen as uniquely spiritual. All of life belonged to God. All of life had its place. No part of life, even prayer, was to push out the other parts of life. When the clock said it was time to work, they worked. When it was time to pray, they prayed. How different would our marriages be, how much closer would we be to our children, how much more would we devote to service, how much more praying would be done if we valued balance as heroic rather than workaholism? We honor those who are "the first to get there and the last to leave." We give medals and promotions to those who stay late, work weekends, and burn the candle at both ends. We treat an unbalanced work life like a badge of honor. If it is not work, it is sports. How controlled are families with children today by the demands extracurriculars make of them? The authority Benedict expected the Abbot of Abbess to have has been taken over by a Coach. He wanted a spiritual leader to have authority over us to guide and shape us. This leader represented Christ. Now Jesus wears a whistle and carries a clipboard. Benedict wouldn't throw out work as unspiritual or sports as a waste of time. He called for balance so that all of life would glorify God and serve the world.
These are just two of many that are changing me and have the potential to change our culture.
Soon I will post about three more Benedictine values - #silence
#humor
#stability - and their ability to reform our lives.
These are a few thoughts on a spiritual heritage that spans the whole globe and a millennia and a half of Christian history. I would encourage you to read the
Rule
for yourself. Don't do it, though, without some commentary. He didn't write it for light, bedtime devotional reading. He wrote it as a guidebook to establish day-to-day life of a group of men or women committed to living in whole-hearted devotion to Jesus. I would encourage you to read, at least, the above paraphrase. If you really want to feast on the rich nutrients of this spiritual tradition, I would pick up two essentials
texts by a woman who has lived her whole life as a Benedictine sister, Joan Chittister. There are certainly many others out there, but
start with these:
Wisdom Distilled from the Daily.
Here Chittister takes aim at the primary values that shape the
Rule
and Benedictine life without really talking a lot about what it means to be a monastic or what the various parts of the
Rule
mean. She simply goes chapter by chapter naming Benedictine values that, if lived, will transform you and the world you inhabit.
The Rule of Benedict: A Spirituality for the 21st Century.
In this work she breaks the 73 mini-chapters of the
Rule
into daily readings for four months. Each reading comes with a devotional commentary by Chittister about living the spiritual life in the contemporary world. By far the best daily devotional reading I have ever done. You will want to read it over and over. The copy hyperlinked here is an updated version that adds a few elements my copy does not have. It is a really beautiful, rich text.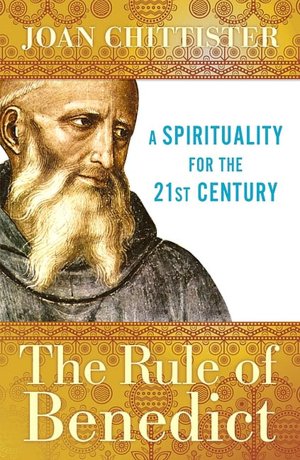 If you begin to engage Benedict, be warned... you will be offended, convicted, inspired, excited, and a whole mix of other reactions! But if you
listen
(a BIG word for Benedictines), you will soon find that:
"Benedictine spirituality rests on elements that have meaning for our time: prayer, meditative reading, community, balance, humility, mindfulness, obedient listening, and stewardship of the earth. Never before in history have these elements been needed more." (Chittister, OSB)